Design, Do, Discover is for educators who are passionate about student-centered, constructionist learning and interested in the practical implementation of hands-on projects in the K-12 setting. In particular, the focus is on empowering participants to become joyful maker educators and to imagine how they can integrate making into the daily life of their school setting.
Participants would be working with an awesome panel of judges.
Old friends and new met over coffee.
Participants broke into six groups to brainstorm as many project ideas as possible.
These project ideas were grouped by theme.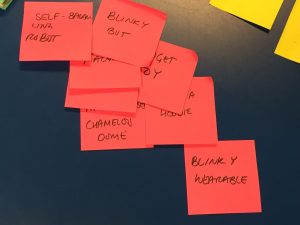 And from these themes, possible project ideas were generated.  Participants volunteered to serve as beacons for specific topics, and participants decided which project they found most interesting to work on.  Much like an EdCamp or UnConference, participants could leave a group if the project work didn't meet their needs or wasn't as interesting as initially conceived.
This led to some intense discussions about how best to approach these projects!
The rest of Day 1 and all of Day 2 focused on project work.  These projects included:
Stuffed animals that sense temperature and light up when hugged
Flower with light sensitive petals that open/close
Interactive word wall
Name panel with light
Geometric shape designs made into a hanging mobile
Houses on grid
Zoetrope with strobe light and motor
Robot garden
Biology diffusion model
Neopixel glove
Enjoy these project work photos from D3!